Multi- Gemstone Station Bracelet - Provides strong connection between physical and astral bodies, Brings Success, Abundance, Personal Power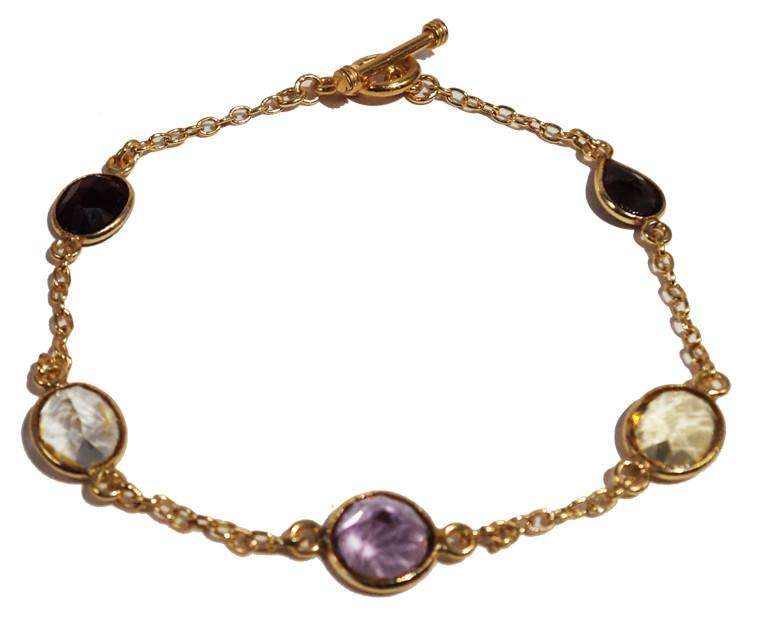 My Dear beloved family of light many of you kept asking me to create protection pieces that you can wear on your body. I am happy to introduce this beautiful pendant.

I have imprinted this bracelet with unconditional Divine LOVE. This bracelet has a very strong protection and metaphysical properties. Its made to protect your aura, clear negativity from it, prevent any energy leaks, improve your connection with the Divine. It is a very good gift for yourself and your loved ones.

This amazing bracelet has 5.50 ct. t.w. of the miracle genuine gemstones Red Garnet, Clear Quartz, Citrine, Smoky Quartz, and Amethyst in 24K gold plated silver. Approximately 8 inches long. Packaged in a stunning gift box.


Since stones and crystals vibrate and emit pure, strong vibrations at constant rates, they can be used to help eliminate distortions and restore proper balance, leading to better overall physical, mental and spiritual well being. Each stone and crystal emits subtle vibrations that influence a specific area of your body. Matching the stone or crystal to its specific use allows you to get the most benefit from these natural gifts of harmony.

Citrine- Success, Abundance, Personal Power.

Citrine is a joyful stone with bright energy which lights up many aspects of lives of those who work with it. ... In addition to manifesting abundance, citrine also brings energies of generosity so that the prosperity and success is shared. Natural Citrine is a premier stone of manifestation, imagination, and personal will. Carrying the power of the sun, it is warm and comforting, energizing and life giving. It stimulates the chakras like the sunlight of spring, clearing the mind and stirring the soul to action. Its frequency awakens creativity and imagination, and sustains the process of transforming dreams and wishes into tangible form. With its pure yellow energy, Citrine encourages fullness of life, fresh beginnings and new pursuits.

Natural Citrine does not hold or accumulate negative energy, but rather transmutes, dissipates, and grounds it, making it extremely protective for the environment. It works out problems on both the physical and subtle levels, transforming negative thoughts and feelings into positive ones. It is one of only two crystals on Earth that never needs to be cleared or cleansed.

It is regarded as a cleansing and as a healing gemstone and as a success stone as it aids in bringing prosperity, abundance and good
health all important aspects of modern life. Citrine aids sin manifesting abundance and prosperity and controlling negative energy. Success is the stone for Citrine because it involves creating success, abundance and prosperity. If you need good fortune then Citrine is the stone for you. Citrine also aids in relieving depression. It instills inus self awareness and aids in ones spiritual development. Citrine is a positive stone and clears negativity.

GARNET- The Stone of Love and Devotion

Friendship / Fellowship: This stone makes you very attractive to other people by bringing out your best qualities. Many people new in
recovery experience loneliness as they change "People, Places, and Things". Many need to form new friendships and associations. This stone can help attract new friends, who will be attracted to you for who you really are.

Isolation: Many people in Recovery have been loners all their life, often isolated and feeling misunderstood. This stone will help to attract like-minded people to you.

It provides a stable, balanced connection between the physical, the spiritual, and the nervous system. It both monitors and adjusts the flow of energy, providing for a balanced energy field around the physical body, and aligning the emotional, and the intellectual bodies with the perfect vibration of a Higher Power.

Spiritual: Helps to stabilize the connection between the spiritual and the physical. Brings spirituality to relationships. Helps in the transition from romantic love to a deeper spiritual commitment to each other. Friendship and Relationships: This stone enhances charisma, making you very emotionally and physically attractive to other people because it brings out all your assets. Sparks Creativity: Enhances and Awakens the "inner fire" of creativity. Can help get the creative juices flowing if they feel "blocked".

Luck: Garnets are lucky stones: lucky for love, lucky for success, and lucky for goals. Business: Helps us become more motivated, productive and achievement oriented. Protection: Noted for its powerful protective energy. Carried by ancient soldiers for protection . The stone was set in shields, buckles, and other items worn by Crusaders.

Romantic: A passionate gemstone that inspires love and mutual attraction. Enhances libido (physical desire) as well as balances the
wearer's sexual energy (drive).

Garnet is found the world over, and though commonly known to be red, it is in fact found in a variety of colors and chemical formulas, each with its own set of spiritual properties. [Simmons, 165] Legends and folklore place garnet among the most ancient of talismans. Not only was it prized as an ornamental jewel, but its strong curative powers and protective energies made it invaluable.


Garnet is also known for its utilization of creative energy. It grounds spirit forces within the body and helps in the ability to work lovingly on the physical plane. [Raphell, 156, 162] [Simmons, 166] Yet Garnet is a sensual stone. It represents primordial fire, the creation of the world out of chaos, purification and love. It is a stone of strong, intense feelings. [Megemont, 87]

The distinctive title Garnet is derived from the Latin name Granatum, a pomegranate, because of the resemblance the granular varieties of Garnet bears to the seeds of that fruit. Garnets vary in size from a grain of sand to the size of an apple. According to the Roman historian Pliny, the large dull-colored "Carbunculus of India" (a variety of Garnet) used to be hollowed out into vessels which would hold
as much as a pint.[Fernie, 157]

Garnets were used in the former Czechoslovakia as far back as the Bronze Age, and in Egypt more than five thousand years ago. They were used in Sumeria around 2100 B.C. and in Sweden between 1000 and 2000 B.C. They were also popular in ancient Greek and Roman civilizations. According to the Talmud, the only light on Noah's ark was provided by a large Garnet. In Europe during the Middle Ages, Garnet was used to enhance truth, faith and constancy, and to dispel melancholy. [Simmons, 165-166] As a Warrior's Stone, Garnet served as a talisman in the Crusades for both the Christians and their Muslim enemies. [Megemont,87]

Garnet is said to have been one of the twelve stones in the Breastplate of the High Priest, and has been used as a sacred stone by
the Native American Indians, the South American Indians, the Aztecs, the African tribal elders, and the Mayans. It acts with speed to expand one's awareness due to the flash of lightening contained within, and enhances one's internal fire to bring creative powers to
implementation. [Melody, 290]

Metaphysical Properties of Amethyst

An Amethyst is an excellent all-purpose stone that can increase spirituality and enhance intuition and psychic powers of all kinds. It does this by making a clear connection between the earth plane and other planes and worlds. Amethyst is also excellent for meditation. It is used to open one's channels to telepathy, past life regression, Clairaudience, clairvoyance, and communication with angels. Amethyst also protects against psychic attacks, especially during spiritual work.

The crystalline, etheric Amethyst radiates the pulse of the universe. Once you've been kissed by the violet flame vibrating through a mathematically perfect conduit that was crafted by divinely-guided hands, you will never be the same again.

RIght now, you have chosen to come into 3D; the age of ascension. This can be an uncomfortable process for some. Energies are strong and confusing and this can be even physically overwhelming.This is why the ascended masters are influencing the design of St Germain Violet Flame ,these sacred geometries so as to gently train the individual to concentrate the energies at a rate and density that is tolerable and like a beautiful orchestra playing the music of the individual's' soul. They are now in spirit and interact with humankind and assist with our ascension. In order for humankind to ascend, it must connect with and fully accept its "I Am" presence. The combination of every element in this piece acts as the conduit to allow the realization of the "I Am" presence. It is the part of us that is not inside the matrix of the 3 dimensional existence.

Metaphysical Properties of Smoky Quartz

Smoky Quartz to relieve tension and stress, anxiety, or panic attacks; also to ward off negative thinking, and to eliminate worry and
doubt when faced with chaos or confusion. To absorb misfortune, sorrow or seemingly impossible obstacles, hold faceted or natural points of Smoky Quartz in each hand pointed down toward the ground, then consciously release these negative energies to Mother Earth for cleansing and repurposing. [Lembo, 288][Gienger, 80][Eason, 122]

Smoky Quartz links with the Earth stimulating concern for the environment and inspiring ecological solutions. Use its protective energies to block geopathic stress and absorb electromagnetic smog given off by power lines and electronics. It is invaluable in layouts for
environmental healing, and assists elimination and detoxification on all levels, ushering in positive energy in its place. [Hall, 240][Hall En, 186][Ahsian, 367][Lembo, 288]

An extraordinary amulet of protection, Smoky Quartz helps guard the home, vehicles and possessions against theft, damage and accidents caused by human error. Keep one in a purse, a bag in the glove box or near valuables, especially if left unattended for long periods of time. As a driving crystal, Smoky Quartz protects against road rage and other harm while driving on motorways, on long journeys or in heavy traffic by reducing stress and increasing concentration. It also shields against unexpected mechanical breakdowns. [Eason, 122]

Place Smoky Quartz in the home or work environment to filter out bad moods, unspoken resentments, or disparaging remarks that drain one's strength and enthusiasm. To shield against hostility or gossip in the workplace, or a bullying boss or manager, set dark Smoky Quartz points outwards on your desk in a semi-circle to create a calm, safe area in which to work. [Eason, 41, 122][Simmons, 366]

Wear or carry Smoky Quartz to enhance survival instincts, and for assistance in reaching personal and business goals, as well as manifesting dreams and ideas into reality. This crystal promotes rational, pragmatic thought processes and improves calculation and
organization. It increases focus and may be used in group situations to alleviate communication difficulties and foster a spirit of cooperation. [Melody, 607][Simmons, 366][Hall, 240][Gienger, 80][www.crystalskulls.com]

Smoky Quartz is a remarkable aid for quitting smoking, gradually reducing the urge to smoke, as well as softening the anger and agitation associated with nicotine withdrawal and the detoxification process. [Lembo, 289][Megemont, 167]

Metaphysical Properties of Clear Quartz.

Clear Quartz is also known as the master stone because it is considered the most versatile multipurpose healing stone. Clear Quartz
is abundant in the Earth's crust, like a spiritual library waiting to be accessed Clear Quartz to be the "brain cells" of the Earth. Quartz is
the most common mineral on Earth, which resonates with the frequencies of the silica in our body. This helps to energize, harmonize and balance the energies of the body and to promote and restore our well being on all levels. Clear Quartz has both pyroelectricity and piezoelectric properties. Pyroelectricity is its ability to generate an electrical charge when heated or cooled, with these qualities, While the piezoelectric properties of clear quartz crystal enables it to store energy and information, as well as to provide energy and information

–Quartz amplifies thoughts, which are a form of energy, and they store information, quartz crystals are easy to program with thoughts and firm intentions. Just like a computer that stores information, Clear Quartz can stores your thoughts and intentions, and amplify them. Clear quartz acts as a receiver and transmitter, allowing you to attune to the energies and information you wish to receive from the Universe, and assisting you to manifest your intentions.


Silver Metaphysical Properties and Mystical Properties

manifestation of wealth, riches, and health improves quality of speech and brings eloquence to conversations calming and balancing reflects away negativity and evil intentions brings the wearer more in tune with the flow of the universe the moon and water, a mirror to the soul increases strength of perception awakens and increases psychic and intuitive capacities divides strong connection between physical and astral bodies increases the strength of gemstones and crystals, particularly , Amethyst, Quartz, Citrine, Garnet ,Smoky Quartz high malleability (ability to be shaped), enables the user/wearer to bend energies, creating vital energy centers.
Multi- Gemstone Station Bracelet - Provides strong connection between physical and astral bodies , Brings Success, Abundance, Personal Power
$ 99.99