Rainbow Moonstone & Labradorite Bracelet - Brings
success in love, Psychic Protection, Sleep Enhancer, Deflects
Negativity, Brings Good Fortune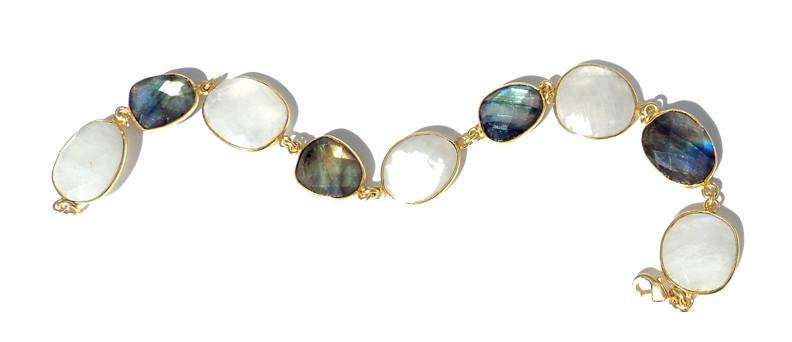 My Dear beloved family of light many of you kept asking me to create protection pieces that you can wear on your body. I am happy to introduce this beautiful pendant.

I have imprinted this bracelet with unconditional Divine LOVE. This pendant has a very strong protection and metaphysical properties. Its made to protect your aura, clear negativity from it, prevent any energy leaks, improve your connection with the Divine. It is a very good gift for yourself and your loved ones.

This bracelet is approximately 9 inches long. 9 genuine rainbow moonstone and labradorite gemstones each measuring between 18mm x 14mm. Lobster Clasp. Gold Plated Brass. Comes in a beautiful gift box.
In spiritual and metaphysical traditions Brass is the metal that brings out natural good and inner truth. Brass is Composed of Copper and Zinc…

Cooper: Since copper is such a wonderful physical conductor of electricity and heat, it is also considered the conductor of the spiritualist's belief system. Copper has the ability to conduct spiritual energy back and forth between individuals, crystals, auras, the mind and the spirit world. It is also believed that copper has the power to amplify thoughts when sending and receiving psychic communications. New Age followers carry copper with their stones and crystals to 'straighten' the properties of them, as well they are used when crating crystal wands to be certain of their clear and straight powers. Copper is also quite instrumental in the physical and mental healing rites of many peoples of this world.

Zink is good for the enhancement of overall life-forces as well as building confidence, strength, and courage; provides for the synthesis of personal power, physical energy, and creativity, producing a stimulation of the electric currents within the body, and facilitating a removal of energy blockages; it is said to be beneficial to furthering relationships on the physical plane; enhances passion;

Gold: To increase the healing powers of stones depend on cycles to fulfill their manifestation. (Source: shimmerlings.com)

Rainbow Moonstone: This is a very special and highly spiritual stone that connects both sexes to the vibration of Mother Gaia, and her energy. Brings good fortune, Assists in foretelling the future, Enhances intuition, Promotes inspiration, Brings success in love as well as business matters, Offers protection on land and at sea.

Acts as a prism, diffusing energy throughout the aura. It provides psychic protection, clearing the mind and senses, and aids in lucid dreaming and calm sleep. It deflects negativity and eases emotional trauma. Aligned with the Goddess, Rainbow Moonstones connect with the energies and spirits of Nature, from plant devas to galactic consciousness.

Moonstone is a highly valued gemstone for these reasons:
Brings good fortune ,
Assists in foretelling the future
Enhances intuition ,
Promotes inspiration
Brings success in love as well as business matters ,
Offers protection on land and at sea
The moonstone is associated with the moon and was the stone of the goddess Diana.
The most powerful time to use the moonstone is in a full moon. Moonstone is a very personal stone. It is a reflection of the person who owns it. It does not add or detract, only shows how it is. This is why the moonstone is said to perceive that which "is".
Moonstone is an excellent stone to use in meditation to understand oneself. Placing it in the moonlight of a moon reaching its fullness, not a full or waning moon, can revitalize it. This is a particularly good gemstone for women. It is a good stone for young women or teenagers.
Moonstone is used by healers to stimulate the functioning of the pineal gland and balance internal hormone cycles with nature's rhythms. Moonstone is a stone of inner growth and strength.


As ancient as the moon itself, Moonstone holds the power of mystery. Its secrets are locked beneath a pearly veil, and with them, our own hidden truths. Only within its reflected light can we begin to understand what it has to teach us. Moonstone is foremost a talisman of the inward journey, taking one deep into the self to retrieve what is missing, the parts of the soul left behind or forgotten, then brought to
light.

Moonstone opens the heart to nurturing qualities as well as assisting in the acceptance of love. It is an excellent crystal for first or new
love, and is a comforting talisman if love must be kept a secret. It was also believed to be able to reunite loved ones who had parted in anger.

Rainbow Moonstone intensifies your feminine 'Goddess' energy! It is a stone that enhances your feelings and encourages fervent desires, eager expectation and heartfelt resolve and holds within it the deep seated nature of feminine energy.


This beautiful crystal has a powerful vibration that may heighten psychic abilities, and aid you to embrace your gifts. These beautiful
crystals reflect within them the magical healing qualities of the vibrations of the moon. Within men... its energy may influence your
brain, and aid you to become more emotionally balanced... as the right side of your brain is stimulated to become more creative. Once you begin to have this crystal within your auric field ... you may find that you begin to experience a greater number of synchronistic or serendipitous situations. Coincidence synchronicity and serendipity are all powerful aids to move your life in a new direction. If you open your mind to the prospects that these situations bring into your life... new possibilities for manifesting what you desire may emerge.It is strong stone to enhance your intuition... and its unique resonance may raise your psychic gifts if you hold it while doing a psychic meditation. Within women in particular, it may stimulate the gift of psychic visions or clairvoyance.

The white crystal energies present in all Moonstones have an association with the Crown Chakra and our spiritual center. They represent personal identification with the Infinite, and oneness with God, peace and wisdom. The Crown Chakra is located at the top of the head, and is our gateway to the expanded universe beyond our bodies. It controls how we think, and how we respond to the world around us. It is the fountainhead of our beliefs and the source of our spirituality. It connects us to the higher planes of existence and is the source of
universal energy and truth. When the Crown is in balance, our energies are in balance. We know our place in the universe and see things as they are. We are unruffled by setbacks, knowing they are an essential part of life.

Moonstone cleanses and dispels negativity from all the chakras, and provides supplemental energy and support in balancing the physical, emotional, and intellectual bodies. It provides spiritual nourishment and sustenance to assist one through all changes. It is also a useful tool in radionic analysis and treatment to help pinpoint problem areas. (Source: Crystalvaults.com)

Labradorite radiates a predominant blue crystal energy that stimulates the Throat Chakra, the voice of the body. It is, in essence, a pressure valve that allows the energy from the other chakras to be expressed. If it is blocked, or out of balance, it can affect the health of the other chakras. When the throat chakra is in balance and open, it allows for the expression of what we think and what we feel. We can communicate our ideas, beliefs, and emotions, bringing our personal truth out into the world.

We have an easy flow of energy within the body and spirit. The energy that springs upward from the lower chakras can continue its path
enabling free expression and natural release. Darker shades of blue encourage the power of truth, while lighter shades carry the power of flexibility, relaxation, and balance. Labradorite, with its iridescent flashes of color, can be very beneficial in uniting all of the chakras.

Wearing or carrying Labradorite allows one's innate magical powers to surface. It enhances the mental and intuitive abilities of clairvoyance, telepathy, prophecy and coincidence control, and assists in communication with higher guides and spirits in accessing Akashic records, psychic readings and past-life recall. It provides an ease in moving between the worlds, and permits a safe and grounded return to the present.

Labradorite is a powerful protector of the aura, preventing energy leakage, and others from tapping into and draining your personal energy. It ensures all elemental forces are empowered and proportional within one's system. Referred to as the "temple of the stars," Labradorite is thought to bring the light of other planetary beings to the soul of the user.


Its labradorescence is believed to be of extra-terrestrial origins, and enclosed in the mineral to bring the evolved energies from other worlds to the Earth plane. (Source: Crystalvaults.com)
Rainbow Moonstone & Labradorite Bracelet - Brings success in love, Psychic Protection, Sleep Enhancer, Deflects Negativity, Brings Good Fortune
$ 99.99